Check Out Kerama Blue! A Guide to Okinawa's Zamami Island
Published: Aug 01 2018
Last updated:
Zamami Island in Okinawa Prefecture is a small island that is surrounded by a beautiful sea called "Kerama Blue". It is a tourist destination that you can enjoy in many different ways, including swimming in the ocean. Below are some ways to have fun at this famous spot!
What is Zamami Island?
Zamami Island is one of the islands of Kerama Islands, which are located on the western side of Naha City. It is a small island with an area of around 6.7sq.km. Its main appeal is the vast sea surrounding it. The extremely transparent seawater, called "Kerama Blue", is so beautiful that it'll make the island look like paradise.
You can get to Zamami Island in about 2 hours from Naha via the Ferry Zamami (one-way fare: 2,120 JPY for adults, 1,060 JPY for children) and around 50 – 70 minutes via the high-speed boat, Queen Zamami (one-way fare: 3,140 JPY for adults, 1,570 JPY for children). During the summer and long holidays, it would be best to book in advance, as it gets packed.
Recommended Spots
You'll need reservations while in Japan. See our writers' top picks!
Furuzamami Beach
Furuzamami Beach is the main beach at Zamami Island. The contrast between the white coral sand and the clear blue sea is so spectacular that it landed the beach a two-star rating in the Michelin Green Guide Japan! Under the sea, there is a magical world woven by various tropical fishes and vivid coral reefs.
Takatsukiyama No. 2 Observatory
This is an observation deck on Mt. Takatsuki that is about 137m above sea level. From here, you will be able to see Furuzamami Beach and the islands floating in the ocean, including the faraway Kumejima Island on a clear day. From the first observatory that is slightly far away, you can see the mainland of Okinawa. You will also get to gaze at the beautiful nightscape of Naha at night.
Ama Beach
Ama Beach is a shallow beach that is located on the western side of the island. You'll feel safe bringing your children here to swim. It is also a nature treasure trove that is known worldwide as an important coral reef spot. There are sea turtles living nearby, so you can observe them up close as well.
Enjoy the Activities!
Marine Sports
Zamami Island has been witnessing a boom in various marine sports. You can try activities like diving, snorkeling, and sea kayaking. There are even diving courses for novices! Enjoy Kerama Blue to your heart's content by looking at the sea from above the water and seeing corals and sea turtles in the water.
Whale Watching
Every year, from January through to late March, there is a strong possibility that you will encounter humpback whales and see them do a spectacular performance. You can watch them from the viewing deck, but joining whale watching tours is what's recommended. You will be able to see them as they come close to the boat!

Whale watching fee: 5,400 JPY for adults, 2,700 JPY for children of elementary school age and younger
Compete in the SABANI Sailing Race!
This is a famous event at Zamami Island that is held from late June until around early July each year. It is a sailing race wherein a number of sabani (a small traditional boat in Okinawa) sail for approximately 35.2 km – from Zamami Island to Naha Airport – using manpower and the wind. Teams that have prepared and trained throughout the year will join this race, engaging in an adrenaline-fueled, fierce competition. You should give it a try too!

Schedule: June 23 (Sat) – 24 (Sun), 2018
Enjoy the Food!
When you go to Zamami Island, you have to try Wayama Mozuku. You can taste Okinawa-style mozuku soba, which uses locally-made mozuku (a type of seaweed). The chewy soba (buckwheat noodles) with mozuku kneaded inside is a superb match to their flavorsome Japanese dishes. The soup is slightly sweet, soothing those that are tired from engaging in marine sports.

Foreign language: English menus available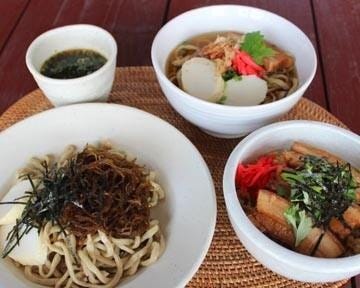 If you are interested, please visit the island and enjoy the beauty of Kerama Blue!
The information in this article is accurate at the time of publication.