【2018 Edition】10 Wonderful Kyoto Inns Offering Rooms with Open-Air Baths
If you are the kind of person who wants to enjoy a relaxing soak without caring about others around you, why not indulge in a room that has its own open-air bath? This article covers 10 ryokan (traditional Japanese inns) in Kyoto, one of the most famous tourist destinations in Japan, that have such rooms. Take a look and see if any of them suit you!
W.JAPAN
Feb 18 2019 (Feb 27 2022)
1. Shoenso Hozugawatei
This onsen (hot spring) ryokan is tucked in a green valley that is about a 30-minute drive from Kyoto's city center. Its bold facade and interior, which resemble the pleasure boats on Hozugawa River, are quite impressive. Step inside this modern building and you will feel just how freeing it is, courtesy of the high ceiling, making you forget about your daily grind. This ryokan's hot spring facilities have been enjoying rave reviews from guests. It offers a wide array of bathing facilities, ensuring that you won't get bored of bathing. For example, stone baths, hinoki (cypress) baths, and medicated baths are just a few of the open-air baths you can find. In the spacious indoor bath area, you will find a jacuzzi, sleeping bath (bath where you lie down), mist sauna, and private bath. However, if you feel like having a bath all to yourself, then you should get a room with its own open-air bath! You can relax and soak in the bath while enjoying the greenery and feeling the breeze on your face. Spend a truly relaxing time while savoring colorful kaiseki (Japanese multicourse meal) that use the freshest seafood from the Kyoto City Central Wholesale Market and Tamba beef. ※The photo shows an example of an open-air bath attached to a guest room.
2. Yunohana Hot Spring Resort Suisen
Located in Kyoto's Kameoka City, Yunohana Hot Spring Resort Suisen is an iconic luxury ryokan with a total of 13 rooms. Here, you can enjoy hot springs while basking in the refined atmosphere and greenery. Both your mind and body will be set at ease just by staying there! The guest rooms, which all have a modern Japanese interior, come in different layouts and designs. The 113 sq.m. suite room and six guest rooms all come with private open-air baths, so you can soak in privacy while marveling at the great outdoors! After your bath, why not enjoy some of the inn's gourmet fare? The kaiseki, which changes according to the ingredients procured that day, is colorful, elegant, and offers exquisite flavors from the seasonal ingredients used. The food alone is worth a visit, so check it out! ※The photo shows an example of an open-air bath attached to a guest room.
3. Nazuna Kyoto Nijo-jo
This inn was designed with "Japanese tea" as the motif, so you will find tea-related designs everywhere. There is a full-fledged tea ceremony room where you can experience an actual tea ceremony and try out a variety of teas. Both first-timers and foreign guests love it! The guest rooms are also fitted with a tea incense burner that will treat you to the scent of roasted tea leaves. This inn is also unique for its "ocha-buro" (tea bath), which you can enjoy through the open-air bath annexed to every guest room. Enjoy a soothing bath with the inn's original tea leaves floating in the water, all while enveloped in the faint aroma of tea.
4. Arashiyama Benkei
Arashiyama Benkei is a peaceful and sophisticated ryokan that will make you exclaim, "I am finally in Kyoto!" Found in a superb location that offers a panoramic view of Arashiyama and Togetsukyo Bridge, you will be treated to gorgeous scenery that changes with the seasons. Heal your tired body by soaking in the large public bath, open-air bath, or private bath. Many guests will recommend that you pick a guest room with a private open-air jacuzzi bath, as you'll be able to soak in gentle and natural hot spring water anytime you feel like it. This inn is the perfect base for sightseeing around the outskirts of Kyoto, since the Hozu-gawa River Boat Rides and Torokko Sagano Romantic Railway are nearby. When it comes to food, it takes pride in its authentic Kyoto-style kaiseki that offers up truly traditional flavors. Many guests come back just to get another taste! If that sounds interesting, make sure to visit this inn!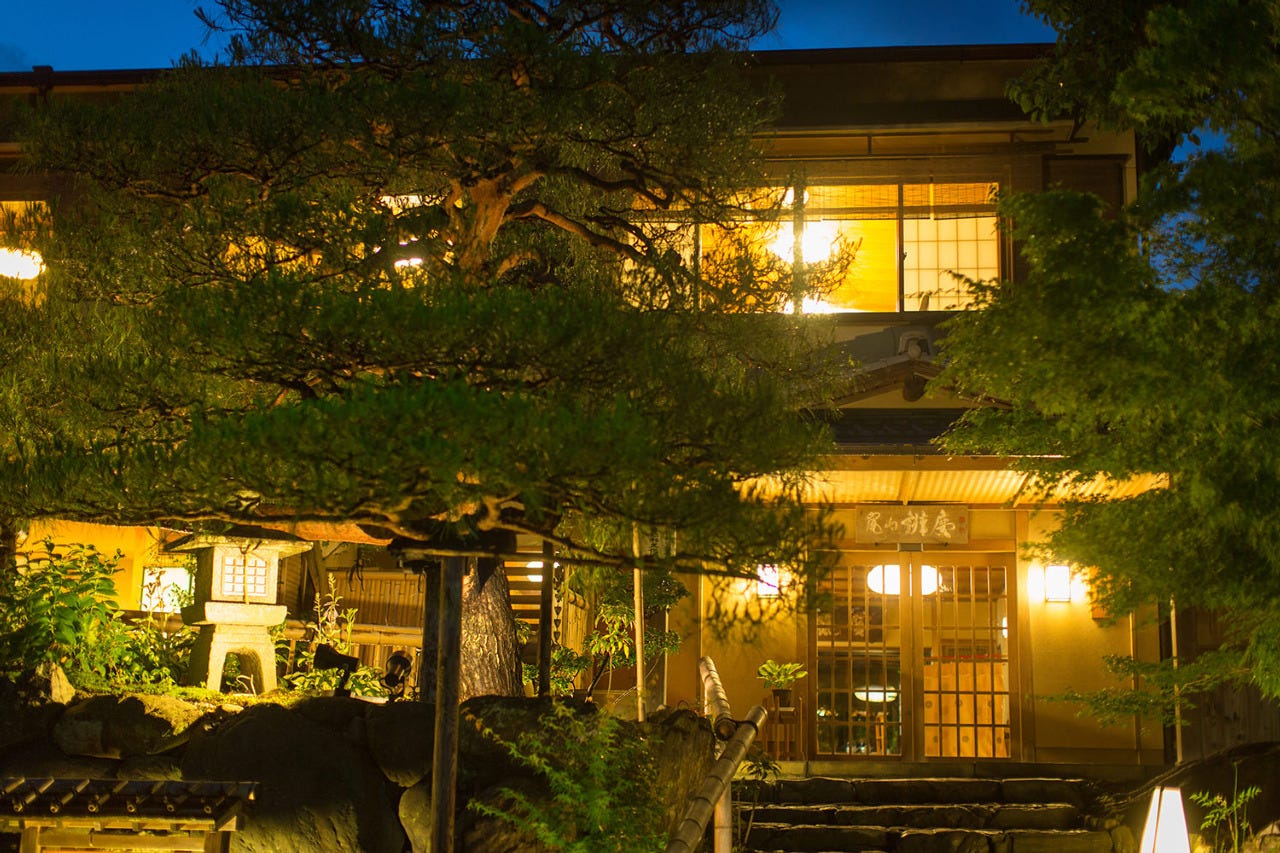 5. Momijiya Annex
This ryokan is located in the Takao area, which is known for its beautiful fall foliage. It is situated in a place that can be reached through a dedicated suspension bridge over Kiyotaki River. There are only eight rooms in this inn, and six of those guest rooms have private open-air baths, so you can easily enjoy soaking in private while surrounded by lush nature. From early June to mid-September, the inn makes use of its location along the river by offering a kawadoko (※) dinner. You are in for an amazing time, as you'll be able to watch maiko (apprentice geisha) performing traditional Kyoto dances!

※Terraced seats set by the river so that you can dine while enjoying the cool breeze.
6. Rangetsu
Rangetsu is a ryokan in Arashiyama, one of the most picturesque spots in Kyoto. It houses a total of 15 guest rooms, including three special rooms that have their own open-air baths. The water that runs in these baths comes from deep underground. It is rich in minerals, gentle on the skin, and pleasant to the touch. When you're soaking in the bath, the magnificent nature of Arashiyama will be sprawled right in front of your eyes. What could be better than having such gorgeous scenery all to yourself? Once you're done with your bath, you can look forward to this inn's colorfully decorated kaiseki that make use of seasonal ingredients.
7. Taiza Onsen Sumihei
Next on the list is Taiza Onsen Sumihei, a well-established inn that was founded in 1868. Contrary to its age, the inn is regularly renovated, so it offers modern facilities. Apart from enjoying the sea that spreads in front of you and the beautiful view of the sunset, you can also savor fresh seafood caught from the waters of Tango, making it popular with gourmands. Though the inn is particularly famous for its dishes incorporating crab, which fishermen are allowed to catch starting November, guests still love their other delicious seafood dishes. Summer is when kaiseki centered around Iwa oysters begin to be served. The hot spring baths in this inn are characterized by their sophisticated design. Soak in a modern wooden open-air bath or in an indoor bath where jazz music is playing in the background! You can also enjoy bathing in private by staying in either of the two available special rooms, called "Kanami-no-ma", or the two detached villas, which are named "Kinean". Every room in this ryokan has a different ambiance, but you are guaranteed a luxurious time regardless of where you stay. So, how about refreshing your mind and body in one of the finest hot spring baths in Kyoto?
8. Ryokan Suzuran
Located in Kumihama, this homey inn is surrounded by the countryside. There is an open beach nearby, so guests hoping to swim in the sea are drawn to it every summer. It is so famous for its special winter dishes that use carefully selected crabs, such as kanisuki (hot pot stew with crab) and yakigani (grilled crab), that guests actually come to the inn just to partake in them! It also takes pride in its colorful Japanese dishes that incorporate fresh ingredients delivered straight from ports and homegrown vegetables. One dish that many guests love is the stone-grilled Japanese beef that will fill your mouth with the delicious flavor and sweetness of beef. All of its baths use water from a hot spring called "Kumano no Yu", which flows from Tango Kamino Onsen. It will warm and soothe your tired body from inside. There is a footbath at the entrance, so why not take a dip in that bath once you arrive? Alternatively, those that want to soak in a hot spring bath in private should book a guest room with an open-air bath or a guest room with both an open-air bath and footbath.
9. Ujo Soan
Yuhigaura Onsen is a hot spring town known for its "beautifying" hot spring water, and Ujo Soan is an inn for adults (guests 12 years old and below are not allowed to stay) that is located in this famous hot spring district. All five of its guest rooms are standalone villas that come with a Japanese-style room, bedroom, living room, and open-air hot spring bath with a deck. The water used in these baths are alkaline and known to beautify the skin, recover energy, and heal nerve pain. Feel free to monopolize the bath without being disturbed by anybody and relax on the deck afterwards. You'll feel the time pass by as you thoroughly relax. Guests also love the inn's gourmet fare, made using various ingredients that are unique to the Tango area.
10. Satoyama no Kyujitsu Kyoto Keburikawa
At this inn, you can enjoy the hot spring water from the famous Yunohana Onsen, which gushes out in this nature-rich area. Many guests recommend staying in the premium room Hozuyama, which comes with a private open-air bath on a wooden terrace. The bathtub is made of Shigaraki-yaki (a kind of traditional stoneware) from Shiga Prefecture, which retains heat well. You'll be able to soak in the bath as much as you want, any time you want! It is sure to make you forget about the worries of everyday life. Another attraction of this inn is its cuisine, which is filled with dishes that incorporate local ingredients, such as Tamba beef and vegetables harvested from the inn's own farm.
There are plenty of ryokan in Kyoto offering various types of guest rooms that come with their own private open-air baths. The possibilities are endless - you can soak in a jacuzzi or an open-air bath with a modern design while enjoying the scenery, for example. Choose according to your preference!
The information in this article is accurate at the time of publication.