This might be your only chance! Win a free dinner at the most popular sushi restaurant in Ginza!
Sukibayashi Jiro in Ginza is a very popular sushi restaurant owned by the oldest 3-starred chef in the world, and it's very difficult to get reservations. However, that very same Sukibayashi Jiro has a campaign where 2 groups of 2 foreign visitors to Japan can win a free dinner there! The deadline is 11:59 PM on November 20th, so please make sure to check it out. This article also discusses the charms of Sukibayashi Jiro.
tsunagu Japan
Nov 11 2016 (Sep 09 2020)
What is Sukibayashi Jiro, the restaurant with the longest wait-list in Japan?
Sukibayashi Jiro is a restaurant on the first basement floor of a building in Ginza, Tokyo. It's so popular that only people who successfully make reservations can enter. It's said that they get over 2,000 reservations by phone a month (but because they're usually booked, most of them are refused.)
It isn't surprising to learn that Sukibayashi Jiro has been offering sushi for more than 50 years. The chef is Jiro Ono, who at 91 is the oldest chef in the world to have been awarded 3 Michelin stars (as of 2016).
A recent photo of Jiro Ono, the 91-year-old 3-starred Michelin chef:
A Japanese black card holder had their personal concierge try to get reservations for three months straight, but failed. That story is how Sukibayashi Jiro became known as a restaurant that's impossible to make reservations for.
Celebrities around the world are obsessed with his sushi!
Sukibayashi Jiro isn't entrancing just Japanese people, but also celebrities from around the world. Here are some past visitors.
President Obama 
wikipedia.org
Hugh Jackman
https://twitter.com/realhughjackman/status/240922414400286720
David Beckham
Drew Barrymore 
Arnold Schwarzenegger 
Leonardo DiCaprio 
Katy Perry 
Rene Redzepi
Rene Redzepi is the owner and chef of Noma, an up-and-coming restaurant that has been awarded the top spot in a World's 50 Best Restaurants ranking in a British restaurant magazine multiple times.
https://twitter.com/TheMADFeed/status/587674120592171008
The road to becoming a sushi master was not entirely smooth sailing 
Sukibayashi Jiro is popular with international celebrities from all sorts of genres, including politicians, actors, musicians, and chefs. What kind of person is the 91-year-old owner chef, Jiro Ono, currently the oldest 3-starred Michelin chef in the world?
"I don't have anywhere to go home to."
When Jiro Ono was 7 years old, he was apprenticed to a restaurant in his hometown. He had a childhood where he had to work late every night, with duties including cleaning, delivery, and washing dishes. Originally, he was very clumsy, so no matter what he did he would get yelled at or kicked, so his days were very hard. The only thing that got Mr. Ono through those days was the thought that "I don't have anywhere to go home to."
Mr. Ono worked with tenacity. Since he worked late at the restaurant, no matter how hard he tried, at school he was often caught asleep at school. As a result, he would get scolded and forced to stand out in the hallway. However, in an unexpected twist, Mr. Ono used that time to sneak out of the school without his teacher noticing in order to run to the restaurant and finish his work before returning to his spot in the hallway. Even though he had those hardships, at the age of 12, Mr. Ono learned the basics of using a knife, and was given the responsibility of overseeing the meals for weddings and official functions.
Even after Mr. Ono became an adult, his fight continued. It was his fight with poverty. When he got married, he had not a penny to his name, to the point that he had to sacrifice for months in order to buy a Coke for his kids. When he first opened the restaurant, he chose to open a sushi business because it required the fewest amount of tools and money.
Roland Brunner/Flickr
*You have to fall in love with work. There's no time to grumble discontentedly about work. You have to gamble your life improving your skills," said Mr. Ono. When you read this quote while thinking of his life, they gain an even deeper meaning.
After he became a sushi chef in 1951, he has continued to create sushi with his entire being. What exactly is the sushi he makes, the sushi that has captured the hearts of celebrities from around the world? 
Some pieces that will make you salivate just by looking at them
What sort of sushi does Mr. Ono offer after his 50 years of experience?
Here is a partial introduction to some of his offerings.
Ootoro (Fatty tuna) 
www.alifewortheating.com
Shiokko (Young greater amberjack) 
overworkedunderfed.com
Hamaguri (Comment orient clam) 
www.businessinsider.com
Sumiika (Golden cuttlefish) 
www.luxeat.com
Saba (Mackerel) 
k-luxedining.com
Uni gunkanmaki (Battleship sea urchin sushi) 
danielfooddiary.com
Kuruma ebi (Japanese tiger prawn)
www.diarygrowingboy.com
Do you want to go but can't make a reservation? 
pixta.jp
Celebrities from both inside and outside Japan have tried to get reservations at Sukibayashi Jiro. Not only is it incredibly popular, it's said that getting a reservation is a Herculean task for Japanese people, so it must be next to impossible for foreign visitors...
However! Sukibayashi Jiro has a campaign where you can win a free dinner!
prtimes.jp
Right now, the activity reservation site Voyagin has a wonderful tour campaign where two groups of two foreign guests can win a free dinner at Sukibayashi Jiro! It also includes a sightseeing sight of Tokyo on a luxurious bus! It's very easy to apply, as everything is done online. You can't miss this once-in-a-lifetime chance!
The interior of the luxurious bus that will take the winners around Tokyo. It's certainly splendid...!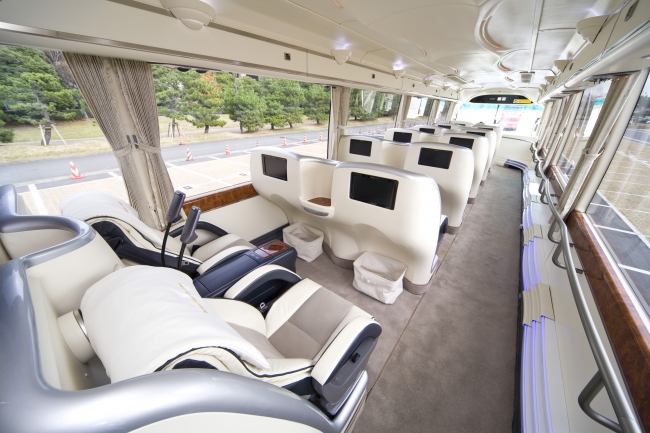 prtimes.jp
【How to Enter】
The entry process is so simple it seems like a life! Press "like" on the corresponding post on Voyagin's official Facebook, and leave a comment saying "I want to go to Sushi Jiro!" However, to win, you must be eligible under the following conditions. It's all very simple, so please check these details before you enter.
Have a Facebook account
Be over 20 years old
Will be in Japan on December 6th, 2016
【Deadline】
11:59 PM Japan Standard Time on November 20th, 2016
【Date of the Dinner】
5 PM - 9 PM on Tuesday, December 6th (subject to change) 
【Tour details】
Tuesday, December 6th, from 5 PM - 9 PM (subject to change)
5 PM - Gather in Tokyo
5:30 PM - Tour around Tokyo (see the evening illuminations)
6:30 PM - Travel in a luxury bus
7 PM - Dinner at Sukibayashi Jiro 
【Results】
Will be announced before or on Friday, November 26th, 2016 
【Campaign organizer】
www.govoyagin.com
Campaign entry page

↓
The information in this article is accurate at the time of publication.